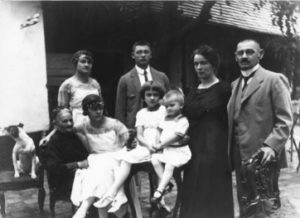 I'm publishing here a few details from the memories of Mária Lábdy. Mária (1914-2007) was the fourth child of Ákos Lábdy, one of the two paprikamillers in Szeged-Szentmihály. Szentmihály was and is a separate community within Szeged. The Lábdy paprika mill was attractive for several reasons: it worked in a community that was heavily depending on income made from paprika growing and production and nonetheless the Lábdy daughters were a pretty lot.
"Dad would walk from the city of Szeged to Szentmihály every morning at 5 o'clock. He had a mill there, he was the miller. This was well before Hungary signed the peace treaty at Trianon in 1920. It was Dad who worked and my Mom would take him his lunch, and the two of them would walk home after work. They got home by midnight. When they put enough money aside, they bought a small old house with two rooms in the centre of Szentmihály, close to the mill. With a lot of work they saved enough money to build a bigger mill. It's still standing, today it is a community house. My Dad bought the machinery for the new mill from the Ruhr-area in Germany.
We were more than just millers. We were also helping local paprika growers to sell their products at the Szeged paprika market to the merchants. The paprika growers from our village would take paprika samples to the paprika market in Szeged. They met the merchants there and when they got a good offer and the deal was made, they went to Jung Jenő's grocery store to make a phone call to our house. My job was to take their messages and tell their families who the buyer was and where they needed to take the paprika.
It was in 1930 or sometime around it, when an Englishman came to Röszke, which is a village next door, right on the border to Yugoslavia. Since my family was involved in paprika exports and in general paprika drew a lot of attraction from foreigners, this Englishman was brought to Szentmihály to see where paprika was produced. First he visited the mill and then our house. I remember how astounded, how surprised he was at what he saw. I remember how he opened his mouth and was left speechless and then said something in English, which we didn't understand. I believe he was impressed to see such a place in Hungary and, on top of it, in a village in a faraway corner of the country."
Tetszett a cikk? Ha szeretne még paprikás és fűszeres témában, heti rendszerességgel cikket olvasni, hírt kapni az ÚJ paprika elkészültéről, iratkozzon fel hírlevelünkre.
Subscribe to our Blog and enjoy our Paprika Poster.