We proudly announce PaprikaMolnár's Paprika Museum is on TV, or rather, on Youtube! CNN's Great Big Story production group wanted to know why Hungarians are so obsessed with paprika. So, they came to Budapest, went to Paprika Market, ate nothing but paprikash and spent a day with us in PaprikaMolnár's museum and factory and listened to Hungarian paprika history. Two weeks after the film is out, it now has over 400 thousand viewers. Apparently, people are interested! It's great.
You can watch the film at this link!
If you liked the film, please share. Thank you so much!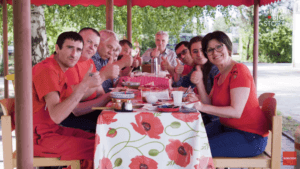 Tetszett a cikk? Ha szeretne még paprikás és fűszeres témában, heti rendszerességgel cikket olvasni, hírt kapni az ÚJ paprika elkészültéről, iratkozzon fel hírlevelünkre.
Subscribe to our Blog and enjoy our Paprika Poster.