There is a Hungarian folk song that says Winter is cold, summer is warm, it's raining all the time, it's never a good time. The melody or tune of the song is fun and the lyrics are so Hungarian: Hungarians like to complain, but at the same time they are self-ironic and like to have fun, too.
The reason why I've chosen this rhyme as the title of this post is that it IS raining all the time these days. Every day for more than two weeks now we've had pouring rain. Since planting we've had 150 mm rain over our paprika lands. It is way too much, especially because it is coupled with high humidity during sunny hours and these circumstances are best for bacterial diseases like xanthomonas. Under these circumstances flowers and small fruits drop, the plant leaves are full of spots, the plant becomes weak and the paprika farmer can only hope for better times. Or, rather, better weather.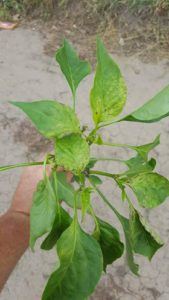 All this rain after the day of St Medardus on 8 June proves the truth of the age-old folk observation: If it rains on St Medardus' day, it will rain for forty more days. The saying goes vice versa, too: if it is dry on St Medardus' day, it will be dry for forty more days.
Folk lore weather forecasting is universal: every culture has their own forecasts, observations and beliefs and while many observations are shared, many are distinctly local. The main point of weather forecasting is to ensure safety, cut down risks, prepare for the future, in other words: to try and have control over the uncontrollable.
Other June calendar days that are in connection with weather forecasting are 24 of June (Midsummer night) and 27 June (nameday of László in Hungary). If the cuckoo sings before midsummer, farmers can expect abundant wheat crops! Or, if you want to know the weather for weeks ahead, just observe the weather on 27 June, day of László, because you'll have the same for weeks. This letter belief sounds if not logical but acceptable: there are weeks when the weather just sets in and doesn't change. Come rain or shine…
I'll keep a close watch in a week's time, on 27 June, because it will tell me what I and my paprika plants can expect in July.
Tetszett a cikk? Ha szeretne még paprikás és fűszeres témában, heti rendszerességgel cikket olvasni, hírt kapni az ÚJ paprika elkészültéről, iratkozzon fel hírlevelünkre.
Subscribe to our Blog and enjoy our Paprika Poster.