Paprika planting in Hungary is just starting. Farmers are busy with removing the paprika seedlings from the nursery and transplanting them out to the open fields. PaprikaMolnár is planting a little earlier than usual also: our seedlings are ready by now to be transplanted on 14 May! The Ice Saints Pancras, Servatius and Boniface aren't threatening with night frost these days and we're hoping for a nice warm weather coming. This month we selected from the Paprika Museum the two most important tools a traditional paprika farmer needed in May: a planter and a sprinkler. Yes, it's paprika planting time!
Paprika planting time
In agriculture the mighty and capricious authority that rules is the weather. It determines planting time, technology, plant protection and harvesting time. I myself can't remember witnessing the same year in terms of weather and temperatures and plant behaviour in any given 5 years. Last year we had so much rain that planting was postponed until the end of May, but this year we've seen a slow warming up since March and the paprika seedlings are now ready to be transplanted.
Planting time – like harvest time – is full of urgent jobs and worries if everything turns out well. Paprika farmers experience the same stress today as they did 100 years ago. Is it too cold for the seedling? Or, is it too hot? Is there too little or too much rain? Are the plantlings to small and frail or too big? Do we have enough hands to do the job?
Paprika seedlings are sensitive to cold weather and frost so tehy may be transplanted into the open field only when night frosts are gone and warm weather sets in. Once the farmer sets his mind to remove the seedling from the hotbed, then the work must be done with no delay. He must grab his planter and sprinkler. No rest, no after lunch nap is allowed! Or, as the old saying goes: The plant like a corpse must be removed from the bed!
Planting past and present
We've collected photos to demonstrate paprika-planting related work in the past and today. Although today we use planting machines, which is a lot quicker and involves fewer people, we can't really spare the hard work of bending low for the little plants.
These days paprika seedlings spend about 8 weeks in a nursery or hotbed. Nurseries in the past were sowbeds under wooden structures with glass on top. The structures were kept close to the house so that constant vigilance could be kept above them.
Today, protection is under foil tunnel, where seeds germinate and grow into seedlings in 8 weeks. The plants are ready to be transplanted when they have 6 to 8 leaves and bushy roots, about 18 cm long and the stakes are strong. Compared to the cheaper and quicker direct sowing method, this method eventually rewards the farmer with earlier harvest, therefore many farmers choose planting instead of direct sowing to better secure good yield.
Planting in the past was especially arduous work, no one could rest before all the seedlings were transplanted. Once taken out of the sowbed, the plant must be transplanted in the shortest possible time. This explains the worry and the sense of urgency planters must have felt. The first planting machines began to be used in Hungary only in 1969. Prior to that it was all done by hand. Probably this was the hardest paprika-related work: the planter would bend down for long hours and many days.
Planting in the past thus required many people. It was real teamwork cooperation: family, neighbours, young and old worked hard for weeks to succeed in paprika planting all the fields in the village. 1 hectare of land could be planted in one day but it required about 40 people all day. Today 6 people and a planting machine can do the planting on about 4 hectares in a day.
PaprikaMolnár photos of paprika planting 2020 will be posted soon! Let's hope for clear weather, good soil, that everyone shows up and that there'll be plenty of rain afterwards.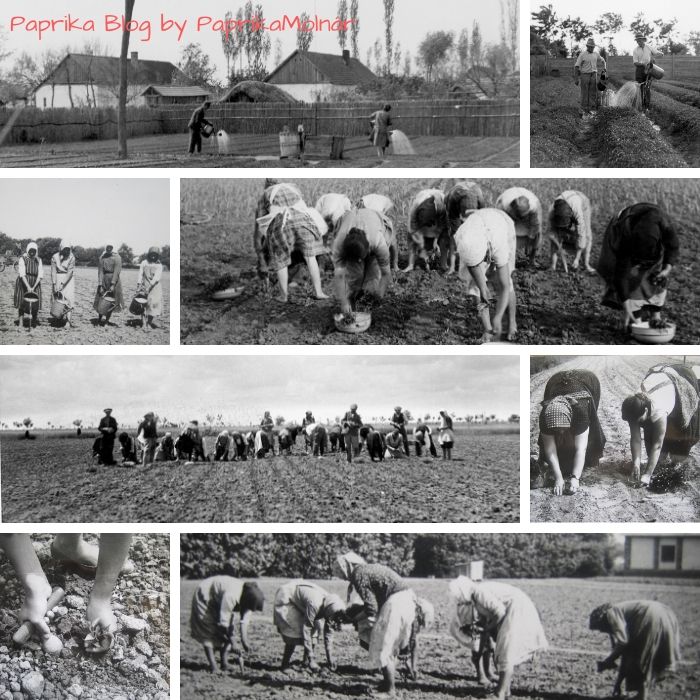 Tetszett a cikk? Ha szeretne még paprikás és fűszeres témában, heti rendszerességgel cikket olvasni, hírt kapni az ÚJ paprika elkészültéről, iratkozzon fel hírlevelünkre.
Subscribe to our Blog and enjoy our Paprika Poster.