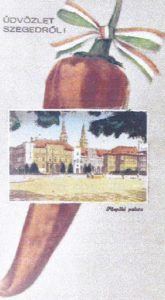 Between 18-27 May 2018 we are celebrating Szeged City. There will be a series of events and festivities to remember and commemorate Szeged earning a city status in medieval times.
The quotation "Paprika put Szeged on the map of the world" comes from a Hungarian American from a hundred years ago and it highlights the special role that paprika played in the urban growth of Szeged.
Paprika production until the mid-19th century was small scale in Szeged. A few decades later, however, it grew to be the main agricultural crop of the city and paprika processing became a lead industry in Szeged. Businesses sprang up where thousands were daily involved in turning hot chili into mild paprika, which meant cutting out the hottest part of the fruit thus making it less hot and more red. Large numbers were working in one of the twenty paprika mills in the city where jobs were numerous from milling to mixing and sieving, maintenance, packaging and cleaning. Red paprika powder from Szeged travelled all over the country by thousands of merchants and export companies specializing in packaging paprika for a foreign market excelled.
Paprika growing and production not only contributed to city growth and helped business to improve, but it enabled the peasantry and lower classes to move up the social ladder into lower middle class, too. Farmers' associations, processors' chambers were founded to help its members to follow and sometimes to fight policy and regulations. By 1930s paprika growing and production was so important to the city that in 1934 the szegedi paprika growing area gained special protected status on account of fighting adulteration. This regulation was an early predecessor of what we call in the European Union protected designation of origin which may be granted to special traditional agricultural quality foodstuffs. The name Szegedi paprika has been protected under this EU law since 2010.
Paprika growing and production in the Szeged area is still alive today helping hundreds to make a living from growing and processing paprika. It is part of the city's image, a central emblem of the city's growth and past.
Tetszett a cikk? Ha szeretne még paprikás és fűszeres témában, heti rendszerességgel cikket olvasni, hírt kapni az ÚJ paprika elkészültéről, iratkozzon fel hírlevelünkre.
Subscribe to our Blog and enjoy our Paprika Poster.