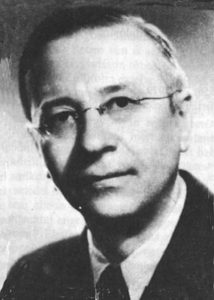 The history of Szeged and paprika have been forever linked together thanks to the local Franciscans and Nobel Prize winner Albert Szent-Györgyi. Another emblematic figure, though much less known, is chemist and paprika researcher Ernő Obermayer who was born 130 years ago, on 13 December 1888.
Obermayer, a chemistry graduate from Budapest, was the first head of the newly established Paprika Research centre in Kalocsa starting in 1918. At the research centre he worked on developing spice paprika varieties, both hot and sweet, analysing and characterising them, and setting down good practices for growing and processing technologies for spice and other paprika varieties. In 1927 he moved to Szeged to work for the Chemistry Research Centre, which did pioneering work in food research. The institute today would be called something like Centre for Plant Genetics and Breeding, which is a good description of the wild spectrum of work it was engaged in.
Obermayer was head of the institute after 1931 until well after the end of the war. He played a major role in developing the most popular hot varieties that became known as typical Hungarian varieties. Obermayer's and Szent-Györgyi's presence and academic work in the life of Szeged in the 1930s was key in the growth in paprika production and in shaping Szegedi paprika that was becoming such a popular product inland and abroad.
The second World War as with so many things altered this dynamic growth. Katalin Obermayer, daughter of Ernő, visited PaprikaMolnár's Museum a few years ago. She told about the end of the war years when it was her father's job to safeguard the most valuable research equipment from destruction. He put the family with small children and the lab equipment on rail and cart and moved them out of the warzone to safety in Western Hungary. All successfully survived intact and were moved back to Szeged to restart work after the war.
Szeged remembers Obermayer with a statue in the park of the Cereal research Centre. In Kalocsa the central square is named after him. Without Obermayer's and his colleagues' work Szegedi paprika and Hungarian paprika in general would be different.
Tetszett a cikk? Ha szeretne még paprikás és fűszeres témában, heti rendszerességgel cikket olvasni, hírt kapni az ÚJ paprika elkészültéről, iratkozzon fel hírlevelünkre.
Subscribe to our Blog and enjoy our Paprika Poster.