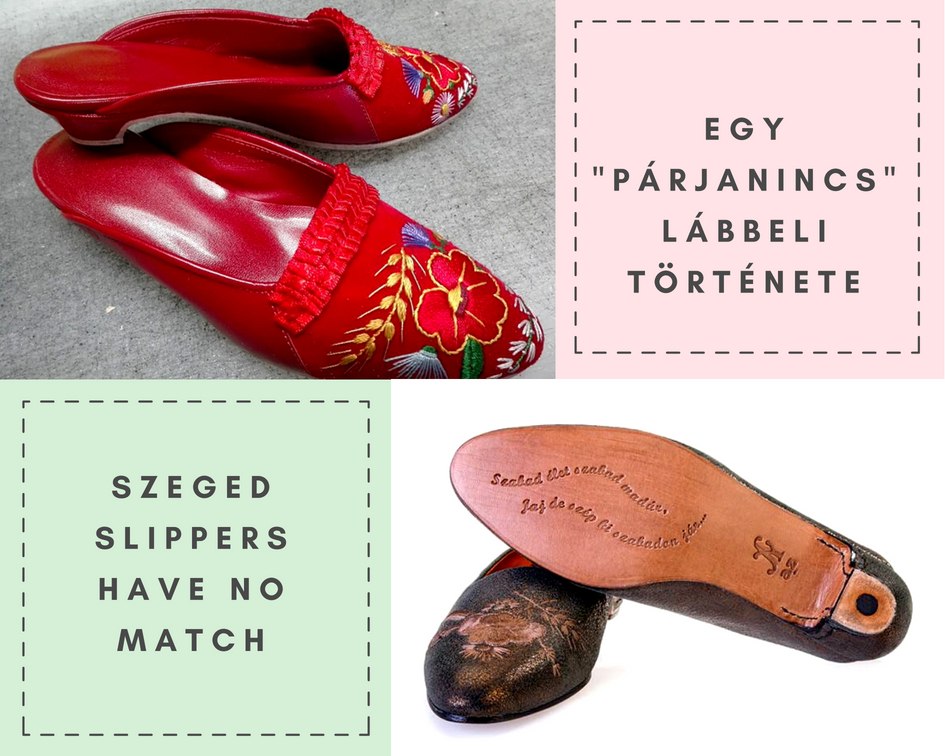 We are in the middle of celebrating Szeged City Festival and now is the time to remember another emblematic object of the city: Szegedi papucs. Szeged slippers were sewn and embroidered by hand and they did not come in pairs, that is, they were without a right and left foot version. It was often said "Szeged slippers have no match" or "Szeged slippers haven't got a pair". What makes the slippers a real Szeged speciality, however, is the beautiful embroidery on the top: ears of wheat, poppies, forget-me-nots and lily of the valley motifs were embroidered on the velvet material to adorn the front of the slipper.
The Hungarian word for slippers papucs is a word of Turkish origin. It was the Ottomans who during their 150-year-rule in medieval Hungary introduced these comfortable slippers. According to local legend, the womanizer Pasha Hobiart was scared off by local women when they hit him in the head with the heels of their slippers.
Szeged slippers today are still made by hand. A pair of slippers takes about ten hours of handwork. The famous Szeged slippers maker Sándor Rátkai had been making slippers since he was a young apprentice until his death at age 97. His legacy has been continued by Tibor and Zsuzsa Sallay from Szeged.
Will Szeged slippers be ever worn again? Will it ever become fashionable again, like the traditional embroidered pieces of clothing from Kalocsa? Szeged slippers maker Tibor Sallay and his wife, Zsuzsa Sallay have been successfully working on making Szeged slippers a new fashion item.
Tetszett a cikk? Ha szeretne még paprikás és fűszeres témában, heti rendszerességgel cikket olvasni, hírt kapni az ÚJ paprika elkészültéről, iratkozzon fel hírlevelünkre.
Subscribe to our Blog and enjoy our Paprika Poster.