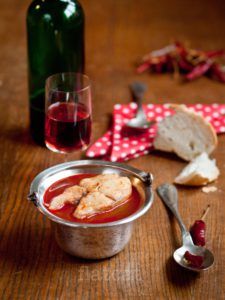 Szeged's International Fish Soup Festival is on us. Hundreds of cauldrons will be set up and families and friends will be cooking fish soup along the River Tisza.
Fish soup is an iconic dish in Hungarian kitchen today, however, its popularity today is nowhere near to what it was in the past. Before river regulation in the 19th century, rivers had a much bigger and more varied fish population. Fish was not only eaten on holidays or fasting prescribed by the Roman Catholic Church, but it was part of people's daily diet also.
There are many ways to cook a fish soup. Aunt Rézi's Szeged cookbook from1871 is quick to say there are two kinds of fish paprikash: the one from Szeged and others. True, the two big rivers (Tisza and Duna or Danube) and Lake Balaton in Hungary produced basically three fish soup varieties: the Szegedi or Tiszai, the Dunai and the Balaton fish soup. They differ in what fish go into the dish and preparation is completely different.
Tisza and Duna people agree that the basic fish in a fish soup is carp and that the more types of small fish are used the better. Szeged fish soup starts with cooking small fish like breams and crucians and lots of onion in order to make a thick soup base. Paprika powder and fish slices are added only at the end. Duna fish soup is quicker: in Baja next to the river Danube they never make a thick soup base. They cook everything at one go like fishermen used to do it: fish, onion, paprika powder. They thicken the soup with thin and short slices of pasta. No matter where you cook it, the paprika powder must be the best and the cook should use both sweet and hot paprika. When is the fish soup ready? There is a funny way in Szeged to check this: when the soup is cooking in the cauldron and it's about to be ready, a thick and sticky cloud of vapour gathers above the soup. Just put your palm into the vapour and you'll feel that your thumb and index finger sticks together. The Danube fish soup is done after twenty minutes, no checking of vapours or anything like that…
Finally, the questions is, what to drink with fish soup? Never WATER! Fishermen used to say "wretched is the fish in the third water". What did the old mean? First, fish swims in water. Second, fish swims in the pot. Third, fish swims in your stomach, but it must be wine, not water. Because, fish has to swim…
Tetszett a cikk? Ha szeretne még paprikás és fűszeres témában, heti rendszerességgel cikket olvasni, hírt kapni az ÚJ paprika elkészültéről, iratkozzon fel hírlevelünkre.
A feliratkozás után azonnal letöltheti a Fűszerpaprika Kisokosunkat!