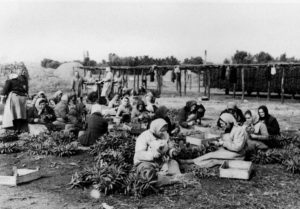 Last week we started an article about processing of hot paprika in the past. This time let's follow the topic!
First the pre-dried red fruit was taken off the garland, the green stalk was removed, the pod was cut up and the seeds, the pith, the ribs, the glands that produce the capsaicin and the bad parts were cut out. The cleaned flesh of the pod was strung in garlands again: they were washed and placed in the fireplace or in heated rooms and were dried. The seeds were washed and dried, too. Of this, Zsigmond Móricz, early-20th century writer, wrote: "In the middle of the village there is a well. Next to it a concrete basin. In the basin young men and women stand barefoot, even in winter frost, and tread for hours on bags full of paprikaseeds. Why? Because the seeds are damn hot. But you need them to make good spice."
After all this work the dried seeds and the dried red flesh were crushed and taken to the mill, where they were ground and milled into a fine powder among millstones. This is how Szegedi and Hungarian paprika started its career: with its fine, mild taste and the red colour and find grind, which turned salamis, sausages and cooked food tasty and red.
With the appearance of mild varieties in the 1930s there was no longer need to decrease the pungency. However, the care with which the fruit was processed has been retained in the work of small farmers today: they take in the hand each and every pod to remove the stalk and to cut out the bad parts.
Tetszett a cikk? Ha szeretne még paprikás és fűszeres témában, heti rendszerességgel cikket olvasni, hírt kapni az ÚJ paprika elkészültéről, iratkozzon fel hírlevelünkre.
Subscribe to our Blog and enjoy our Paprika Poster.