Carnival season has been traditionally a long period of laughter and dances at the end of winter. It lasts from the Christian feast day of Epiphany on 6 January to Ash Wednesday, which ushered in the 40-day period of fasting before Easter.
The timing for carnivals was right as in January and February the agricultural calendar demanded little work from country folks and they had the time and energy to arrange and celebrate engagements, weddings and other get-togethers. The carnivals offered a chance not only to celebrate and have fun but do this unreserved, under a guise. The festivities offered protection and escape from reality.
This is the time traditionally for doughnuts in Hungary. It is the compulsory dessert to eat at this time but few know that in the past doughnuts were endowed with magical power. In southern Hungary doughnuts helped to protect the property from natural forces, for example they helped to protect the house from strong winds and keep the roof on the house. Sure the springs can be whimsical with heavy rain, strong winds and hail and people were in awe of natural forces.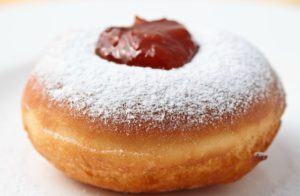 There are many doughnut varieties from traditional easy-to-make recipes to fancier ones today. The most common traditional variety is the ribboned carnival doughnut that gets its name because the side of this round fried cake remains white and the doughnut seems to have a belt or ribbon around it. It's a fluffy cake that can be topped with apricot jam and powdered sugar or more recently with colourful icing topping. The Szeged variety called csöröge doughnut looks nothing like this cake but it's just as good.
Other meals eaten at this time were croissants filled with ham and paprika or pepper and the famous guzzler soup. Why guzzle? Why soup? The festivities went with gluttony and hangovers were treated with this thick sour soup that was made from meat, vegetables and huge portions of sour cabbage cooked up with paprika powder to soothe the stomach.
A few years ago the carnivalous spirit visited PaprikaMolnár's Paprika Mill & Museum. It came in the autumn and in the form of a sassy and funny guy who played with the paprika pods as they reminded him of devilish horns. (See photo above.)

Happy carnival season to you!
Tetszett a cikk? Ha szeretne még paprikás és fűszeres témában, heti rendszerességgel cikket olvasni, hírt kapni az ÚJ paprika elkészültéről, iratkozzon fel hírlevelünkre.
A feliratkozás után azonnal letöltheti a Fűszerpaprika Kisokosunkat!