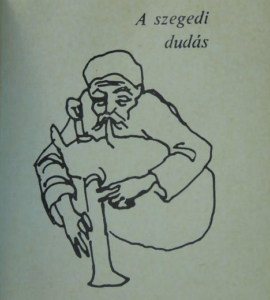 Zsigmond Móricz, early-20th century writer and columnist visited Szeged in 1913. Szeged was a new and upcoming town then, just barely rebuilt after the Great Flood. He loved to sit and talk to local people, seek out what they were like, what made them Szegedi. In his prose collection called Paprika is in the air we get to know Szeged the city and its people through the insights of a non-native visitor. In the previous posts we've seen the wretched existence of the Szeged slippersmaker and the more serene and humorous man through whose character Móricz found the pre-Flood Szegedi man who was lively, positive and fun to talk to. Móricz is deeply interested in this man and he continues to search him.
In The szegedi bagpiper Móricz meets one such man. It's cold, dreary and windy outside and people are spending the evening in their warm homes, smoking a pipe, talking about war and the city and listening to gramophones. That's not why Móricz has come to Szeged for! He begs to meet a real szegedi bagpiper and eventually he is taken to one. Joseph is hard to convince to play his bagpipe: he is sulky and morose, deeply discontented with his daughter-in-laws and the many children in the house who all yearn for new things. Móricz coaxes him with wine and a few good words into playing his bagpipe. And the wine does miracles! The bagpipe is an old szegedi one. It's made of sheepskin and in the top there is a grotesque female wooden head attached. The woman has a cold and cruel face, her eyes are Asian, her face is painted. It is bizarre and frightening. It looks like an eastern idol and Móricz can't help but think she embodies the frightening memory of the Tatar and Mongolian past.
Móriczis bewitched by the sound of the bagpipe and the mood it creates in the house. The children become mischievous, the women laugh and lust slowly fills the air.He envisions men and women from bygone times, who were coming a thousand years ago to conquer this new home. And, he's found what he had come here for: he understands something of those pre-Christian ancestors that had brought their beautiful spirit and blood with them from the East.
Tetszett a cikk? Ha szeretne még paprikás és fűszeres témában, heti rendszerességgel cikket olvasni, hírt kapni az ÚJ paprika elkészültéről, iratkozzon fel hírlevelünkre.
A feliratkozás után azonnal letöltheti a Fűszerpaprika Kisokosunkat!