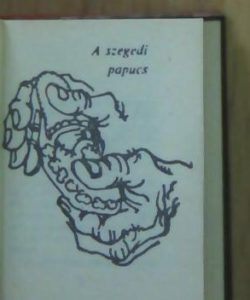 In this Paprika & Chili blog I have already written about representations of paprika in Hungarian literature. Now I'd like to continue with a series of literary texts written by early-20th century writer and columnist, Zsigmond Móricz. The stories appeared in his prose collection called Paprika is in the air.
Móricz was non-native to Szeged, but was a frequent visitor in the city when he was collecting material for his novel on the famous outlaw, Sándor Rozsa. On his autumn visits to Szeged Paprika Town he was deeply inspired by the sight of paprika garlands hanging on houses like heavy curtains: "Under the roofs, above the fences, off tree branches, paprika-garlands are hanging everywhere. This is such an exotic sight, so beautiful that it should attract tourists from as far as Calcutte or London, or anywhere indeed. The sight of a country house full with paprika-garlands is a wonder."
At the same time, Móricz was also a realist and that's where his strength was: his insights in life were complex. In his short story Szeged slippers (1913) he visits a slipper-making family because he wants to buy a pair of pretty Szeged slippers. He spends the afternoon with the family and their apprentices, while studying family life, the relationship between master and servants, their views on public matters, taxes and so on. There is a strong sense of unhappiness and dissatisfaction within the family: bad market, strong competition, slow sales, high prices are to be blamed. The workshop feels dreary and unhappy, work is arduous. However, Móricz senses greed behind poverty and dislikes the kind of lethargy with which these townspeople throw themselves into work. Móricz suggests that Szeged had lost so much more in the Great Flood in 1879 than just its houses. With the Flood the spirit of olden times was gone and in its wake only a few sparks remained.
Tetszett a cikk? Ha szeretne még paprikás és fűszeres témában, heti rendszerességgel cikket olvasni, hírt kapni az ÚJ paprika elkészültéről, iratkozzon fel hírlevelünkre.
A feliratkozás után azonnal letöltheti a Fűszerpaprika Kisokosunkat!