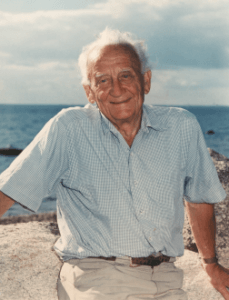 "Discovering is seeing what everybody else has seen and thinking what nobody else has thought" said Albert Szent-Györgyi, Hungarian Nobel Prize winner in Physiology and Medicine in 1937. Albert Szent-Györgyi was born on 16 September 1893. In this post we are celebrating the life and work of this wonderful man.
A charming personality, an eventful and long life and a monumental work in science is hard to put in a nutshell. Albert Szent-Györgyi was born into a family of physicians and scientists. He worked in pharmacology, physical and medical chemistry in Hungary and western European institutes of research before he emigrated to the US in 1947, where he continued his research in medical and organic chemistry. He served in WWI and was actively participating in the anti-Nazi movement in WWII. He was a sports enthusiast, a captivating teacher, an adorable and positive personality. His life and work in Szeged in the 1930s made him a true Szegedian.
By the time he moved to work in 1931 and take the position of Chair of Medical Chemistry at Szeged University, Albert Szent-Györgyi had been deeply involved in researching biological oxidation processes and cellular metabolism. The story of Szent-Györgyi and paprika goes back to this time. He had been isolating ascorbic acid from different sources, among them adrenal glands and fruits. In Szeged his attention turned to paprika when his wife gave him paprika salad for dinner. He didn't like it but didn't want to offend his wife either, so he took the paprika salad to the laboratory for a check. To his greatest surprise he found that a fresh and ripe paprika fruit is an absolutely rich source of vitamin C as it contains about 6 times more vitamin C than an orange or lemon. His discovery is generally true for both the big paprika varieties and the spice paprika varieties.When the discovery was made the professor was buying cartloads of freshly-picked spice paprika for the purposes of isolating ascorbic acid or vitamin C.
Szeged people were immensely proud of Albert Szent-Györgyi and his work. All of a sudden the people of Szeged Lowertown found themselves in the middle of science, research and importance. They warmly welcomed the professor when he visited Paprika Town and were happy to sell paprika for the purposes of research. Ever since Szent-Györgyi's discovery Szeged has been boasting with health benefits of eating Szegedi paprika!
Tetszett a cikk? Ha szeretne még paprikás és fűszeres témában, heti rendszerességgel cikket olvasni, hírt kapni az ÚJ paprika elkészültéről, iratkozzon fel hírlevelünkre.
Subscribe to our Blog and enjoy our Paprika Poster.