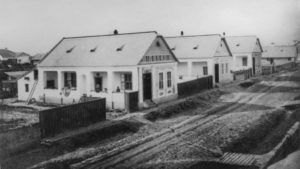 Szeged Lowertown has always been a separate entity within Szeged city. Its homogeneous Hungarian population followed strict Roman Catholic ethics and made a living from agriculture. Among their most famous crops were tobacco and paprika. The two most important characteristics by the end of the 19th century were their religious faith and the sweet paprika spice called Szegedi paprika that they invented. Thus the two other names for Szeged Lowertown: Pious Town and Paprika Town.
Szeged Lowertown was markedly different from the other districts in Szeged. The heterogeneous city population of the Palánk in the city centre was involved in business and city administration. Szeged Uppertown in the north specialized in jobs related to the river Tisza: its watermills and water transport services. The poorer western district of Rókus specialized in low skill work such as transport, growing plants and animals.
The charming narrow winding streets of old Szeged Lowertown were unfortunately gone with the Great Flood in 1879. The neat row of houses that replaced them though were equally charming: on the gable of a newly-built house there was a wooden decoration that formed the sun with all its rays projecting into all directions. A Lowertown house with the sun-gable and the paprika garlands hanging under the eaves was a trademark for not only Lowertown but for the entire Szeged.
Szeged Lowertown developed an interest in paprika growing and production when in 1851 free tobacco production terminated. The tools and equipment that had been used to grow and process tobacco leaves were successfully adapted to paprika growing and production. It's no wonder that the words and expressions that paprika people used for their activities had all rooted in the tobacco tradition.
An interesting addition: the community of Röszke itself where PaprikaMolnár and the Paprika Museum is situated was developed by people who had moved out of Szeged Lowertown to grow paprika on river soil. Paprika growing and production has been a significant source of income in Röszke ever since.
At this time of the year in September Paprika Town used to turn red: the freshly picked red fruits of the paprika plant were strung up into long garlands and hung up under the eaves of houses, where they stayed for weeks or even months. During this time the paprika fruits fully ripened and turned dark red. The best and brightest red paprika powder was made from these dark red garlands. Of the sight Móricz Zsigmond, early-20th century writer wrote: "Under the roofs, above the fences, off tree branches, paprika garlands are hanging everywhere. This is such an exotic sight that it should attract tourists from as far as Calcutte to London, or anywhere indeed. The sight of a country house full with paprika garlands is a wonder".
Tetszett a cikk? Ha szeretne még paprikás és fűszeres témában, heti rendszerességgel cikket olvasni, hírt kapni az ÚJ paprika elkészültéről, iratkozzon fel hírlevelünkre.
Subscribe to our Blog and enjoy our Paprika Poster.