The Paprika Museum item of the month series continues. For February we selected a funny folk, the Folqa Paprikamiller. This month we selected a small round hand-embroidered placemat from Kalocsa and placed it on top of an old tin water can to add accent and more meaning. This is a piece of art that represents folk art in its original form.
Country folks and city people. Is this folk art?
How authentic are these folk motifs? Kalocsai embroidery is relatively young. The first embroideries appeared some 150 years ago and they were all-white. Colored versions, black-and-blue and red-and-blue variations were a later addition. More colors like pink, yellow, violet, green and red came into fashion only in the 20th century, when colored cotton thread dyes became more durable and no longer fading.
Embroidering became a popular hobby when printed embroidery designs and patterns were first published in the Kalocsa press in 1860. From then on girls and women were able to get all sorts of ready-made beautiful patterns. Country women were not only making embroidered clothware for themselves but made money from making richly embroidered materials and clothes especially for city people. What they created is art indeed.
Embroidery with paprika motifs. Past and present

The placemat we selected from the Paprika Museum is very typical of the Kalocsa design in both its ornamentation and its stitching technique. Flowers are sewn with satin stitches to make fully colored blocks of flower petals or leaves. Flower stems are sewn with stem stitches. The motifs are numerous and spectacular: violets, tulips, carnation, squills and daisies, fruit berries and the famous Kalocsa red paprika. It's a simple and beautiful arrangement with vivid colors.
In the Paprika Museum we placed this piece on an old rugged-looking water can to add more meaning. In olden times rural people carried water cans to the field where they spent the day working. This can had its own top which was used as a drinking cup, but if the top got crooked or lost somewhere then women added cover to protect the drinking water from dirt. This representation of a rural water can protected under a decorative placemat shows human respect for water as life source.
Unlike other treasures of Hungarian folk art, the Kalocsa ornaments and designs are becoming more and more popular these days. It is interesting to see how they appear on objects that are unrelated to the world of paprika producers like on this bicycle.
The Paprika Museum displays a lot of pieces with Kalocsa embroidery design. The carriers of these spectacular designs in the Museum are numerous: tablecloths, clothes, pottery, even a bottle gourd. They come on their own, framed in pictures, on postcards or as wall decorations. Visitors love them just as we do.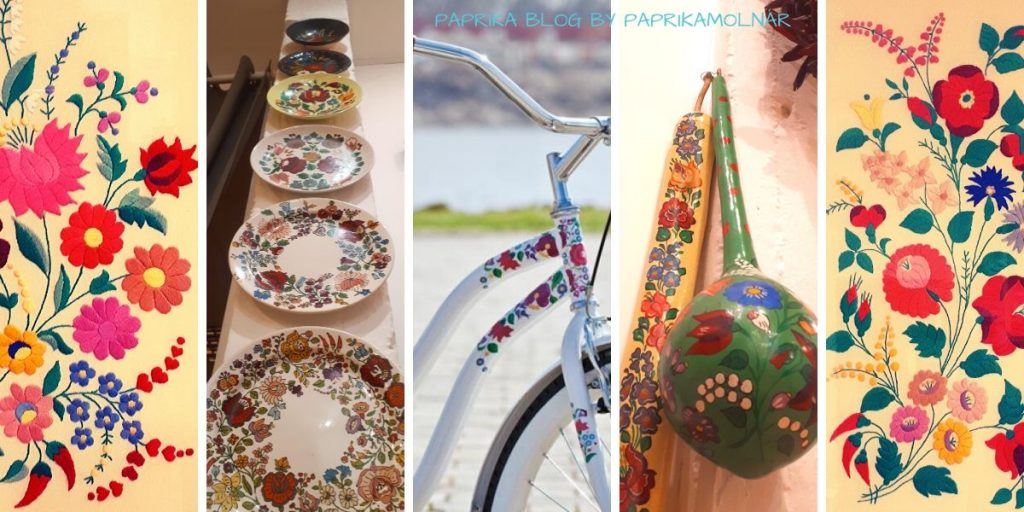 Tetszett a cikk? Ha szeretne még paprikás és fűszeres témában, heti rendszerességgel cikket olvasni, hírt kapni az ÚJ paprika elkészültéről, iratkozzon fel hírlevelünkre.
Subscribe to our Blog and enjoy our Paprika Poster.