The Paprika Museum item of the month series continues. Last month we portrayed the porcelain Paprika-stringing woman from Hollóháza. She is fragile, young and is performing one of the simplest activities in paprika processing. This time we're displaying a more robust male character who's representing paprika expertise. The Paprika Museum item we picked this time is our favourite in the Hungarian souvenir brand called Folqa Collection. He's no other than a Paprikamiller.
Folqa: a souvenir brand of fun traditional folks from Hungary
The Paprikamiller is a folk character in the Folqa Collection which Hungarian designer Heni Juhász-Váczi created. Each of the 11 folk figures in the collection represents a Hungarian region or traditional profession. The folks come with a personality and are portrayed with reference to their profession. For example, there's Potter the Focused holding a piece of crafted pottery from Mezőtúr, or the bristly-faced Outlaw the Just holding an axe. We also love the Starry-Eyed Shepherd who comes with his puli dog, the all-time companion of a Hungarian shepherd.
The Folqa Paprikamiller: The Cautious
The Paprikamiller (translated as Splitter into English by the creators) fits well in the company of these unusual characters. The miller knows all too well that you can't go overboard with Hungarian hot paprika, or, " you'll suffer a vengeance of sweat and tears. Better safe than sorry – just go easy on the spicing!" advises the creator. See here.
The Folqa Paprikamiller certainly is a spectacular figure. Its bright red color immediately makes one think of a red miller. He's holding a paprika string in his hand and his dress is decorated with embroidery motifs from Kalocsa. No wonder he's one of the most popular characters in the collection: paprika in the eyes of tourists is a typical Hungarian thing. And, just look at his face: he's a loveable character, cheerful and spirited!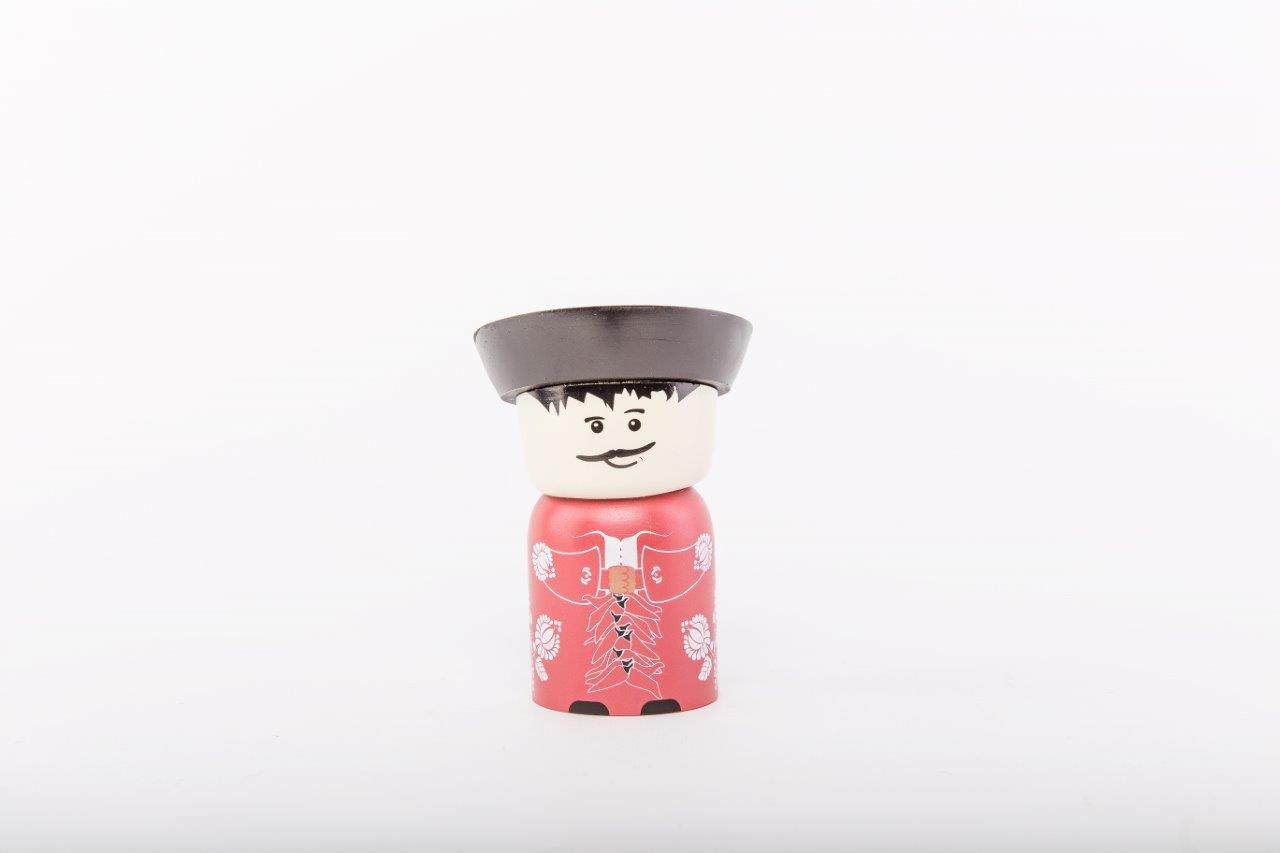 The Folqa Paprikamiller in the Paprika Museum that we bought years ago has a different look. It seems he used to have a more stern look at the time. Our Paprikamiller's now quietly sitting on the shelf laying a stern gaze on the visitor, expressing moderation and caution.
Tetszett a cikk? Ha szeretne még paprikás és fűszeres témában, heti rendszerességgel cikket olvasni, hírt kapni az ÚJ paprika elkészültéről, iratkozzon fel hírlevelünkre.
Subscribe to our Blog and enjoy our Paprika Poster.