In 1958 the Hungarian Radio broadcast a cabaret series under the name Pesti paprika. The cabaret scenes are sassy, witty and funny and they give a whole new meaning to the terms "paprika" and "spice".
According to the cabaret host, Pesti paprika is a lot older than Szegedi paprika, it is as old as Buda and Pest. It is rooted in asphalt. It grows in apartment houses and offices. On concrete floors of factories and in smoke-filled coffee houses. Pesti paprika is the toughest plant in the world. It flourishes in heat and frost. No fire, flood, earthquake or war can do any harm in it. It is like a jungle plant: it grows speedily and it spreads everywhere. Pesti paprika is very similar to Szegedi paprika as both are spicy and hot. They only differ in the way people use them. Paprika from Szeged is food-seasoning, whereas Paprika from Pest seasons LIFE itself. Pesti paprika is humour and spirit. Pesti Paprika Cabaret stories are brought to you by PaprikaMolnár's Paprika Museum.
The title of the following story is Payroll. It features some wonderseed that grows instantly into a big tree. The story begins with Mr Vancak visiting a company director's office. He is an ingenious inventor who is living under bad conditions and is seeking employment for a modest salary. The Director is fascinated by the invention Mr Vancak introduces, which is a great solution for fast plant growth. Although Mr Vancak asks for a modest price, the Director can't think outside the box and turns him down.
Payroll
Scene: Director's office furnished with desk, chair, small table with two armchairs, bookshelf, etc.
VANCAK (enters): Good morning… my name is Ede Vancak. I'm an inventor. Please, allow me to show you my latest invention. Here's a little seed (shows), which of course is available in unlimited quantities. Let me put it in this little hole here on the floor … Yes! Now I'm spraying some content from this little bottle, the Vancakonol! And now just look at it!…
DIRECTOR (exclaims enthusiastically): Good heavens! It's growing fast! Look, it has a stem already. I am telling you, there is a tree growing out of the office floor. It's growing so fast! It's already reached the roof. Oh, it's breaking through! Gigantic! What a huge tree! And in such short time! What tree is it?! …. Walnut? Ingenious! And what does a bottle of this thing cost?
VANCAK: One forint! And the bottle is enough to produce a forest as big as the enormous Bakony forest.
DIRECTOR (crying): Sir… you… you… have rescued me… you have rescued our domestic industry, the buyers will all bless your name. You will save billions and billions for the state! … Sir, I'll kiss you on your forehead, but first do tell me what are your financial needs?
VANCAK: I'm humble, sir! I need a job paying me only 1500 a month.
DIRECTOR (after a pause): Oh, in that case … I'm sorry. We can't do that…
VANCAK (startled): But why?
DIRECTOR: Sir, currently we have no vacancies. Our payroll is full! …
End
So, the real spice of this Pesti paprika story lays in this: We Hungarians often come up with great ideas, and this makes us really proud, but we have a lot to learn in terms of how to apply them. Cumbersome and bureaucratic thinking and the inability to have a longer term perspective makes us lose another invention or innovation. This has happened so many times in Hungary. The idea and innovation sprang up in Hungary but was realized abroad. The wonderseed fell on fertile soil in another country.
And, to mock things further: here's a real wonder! Szegedi paprika on concrete! Photo made by Anita Molnar on PaprikaMolnar's grounds. Flowers and fruits.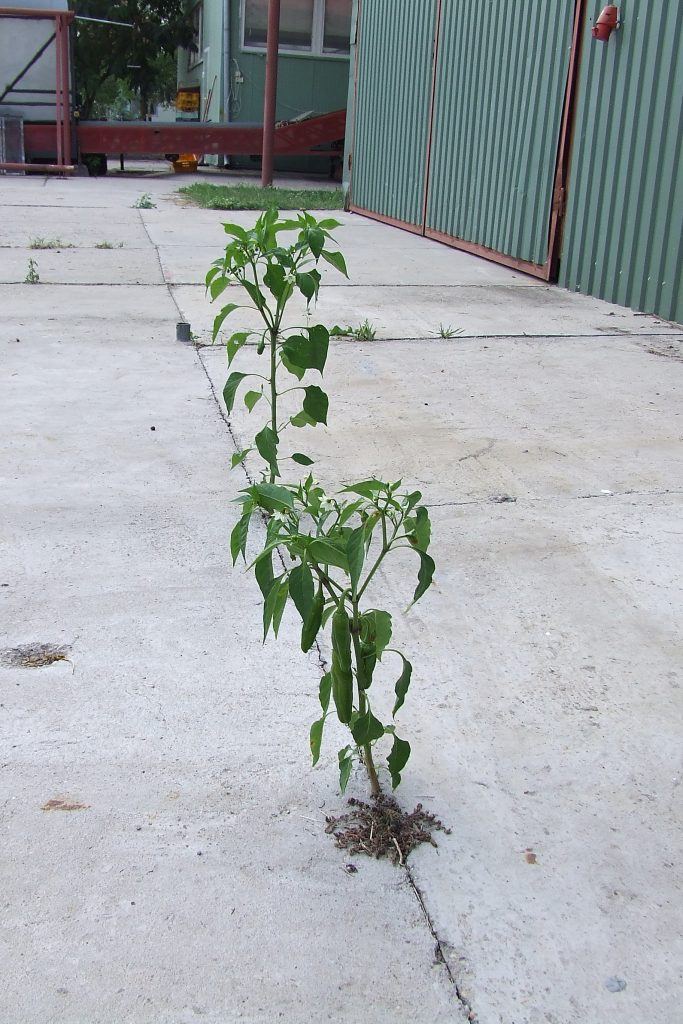 Tetszett a cikk? Ha szeretne még paprikás és fűszeres témában, heti rendszerességgel cikket olvasni, hírt kapni az ÚJ paprika elkészültéről, iratkozzon fel hírlevelünkre.
Subscribe to our Blog and enjoy our Paprika Poster.