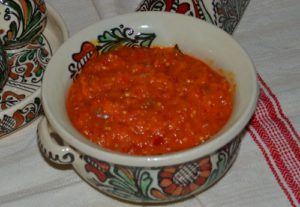 As we are approaching 20 August, the summer is coming to an end. It's harvest time and before we start spice paprika picking it is time now to harvest our most common summer vegetables: tomato and paprika. The paprika that feature in the recipes below are all vegetable paprikas, meaning the thick, juicy vegetables that come in round or long shapes and red, yellow or green colours. We eat them raw or cooked and we never ever make spice from them. However, adding a touch of spice paprika to the dishes below will help spice up these dishes.
Vegetable paprika mix in jars: choose nice red and yellow vegetable paprikas, wash, de-stem, grind them with a grinder and add salt to conserve colour and taste. You need about 15 dkg of salt for 1 kg of paprika. You may spice up this dish with adding a little bit of hot paprika, not powder, but fresh. Whether it's a spice paprika variety or the green vegetable paprika type, it doesn't matter. What matters is the daring hot taste. This vegetable mix is good to add to any paprika dish, stews and soups, especially in winter when we all long for a touch of summer taste. Be careful with using salt for the dish, however, because the paprika mix is salty already.
Anyone who has ever tried zakuszka – real or home-made – will never forget it. It is a transylvanian vegetable spread with paprika and aubergine as basic ingredients and a number of varieties exist depending on what you add to the basics. First grill the paprikas and the aubergines, take off their coat and grind them. Fry onion in oil, add the grilled paprika and aubergine mix and cook it with tomato purée. Add salt and black pepper, bit of sugar and some bay leaves to taste. There are many varieties to zakuszkas: you may cook the basics with ground carrot, parsnip and celery greens, or you may turn it into beans zakuszka by adding large cooked beans to the sauce, or you may spice it up a little with hot paprika, again, not with powder, but by adding raw hot paprika to the sauce. Zakuszkas are excellent spreads for your favourite bread, but may serve as extra flavouring, a touch of summer, in your stews and paprikash, too.
A home-made ketchup takes a long time to make, but it is worth it: cook onion, tomato, paprika and apple together until it's all saucy. Add some salt, black pepper and nutmeg to taste. Sieve the sauce to get rid of the peels, and cook for some more time to thicken the juice. You may spice up your ketchup with hot spice paprika flakes or by adding a dash of hot paprika powder.
Bon appetite!
Tetszett a cikk? Ha szeretne még paprikás és fűszeres témában, heti rendszerességgel cikket olvasni, hírt kapni az ÚJ paprika elkészültéről, iratkozzon fel hírlevelünkre.
Subscribe to our Blog and enjoy our Paprika Poster.