It's still February, still carnival season and my indulgence goes beyond borders! I recently met at our Paprika Museum Tünde Dimén-Varga, the writer of the gastro blog the Hesitating Gourmet. Tünde is a psychologist working with school kids in my favourite Transylvanian town in Romania called Székelyudvarhely or Odorheiu Secuiesc. Her cooking is flavourful yet simple (no wonder, she is a busy Mom also). The photos look tasty and there's a practical and warm-hearting little introduction to each recipe. She is a gourmet, but what's the hesitating? Here are two recipes from the repertoire of Tétova ínyenc, or, as I translated it very hesitatingly, from the Hesitating Gourmet.
The Mac and cheese title speaks for itself, no need to translate it, and here's how the Hesitating Gourmet makes it. Cook 40 dkg fusilli pasta (if you ask me, any pasta) in salted water. Make béchamel sauce from 5 dkg butter, 5 dkg rice-flour and 5 dl milk. Season it with salt, pepper and ground nutmeg. When you have a nice running sauce, add a mixture of grated cheeses: 20 dkg gouda, 15 dkg cheddar and 2,5 dkg parmesan. Mix the béchamel sauce well with the pasta, and pour this into a buttered pan. Season and decorate the top with the following: mix 2,5 dkg parmesan with 2,5 dkg grated breadcrumbs, salt, pepper and small spoonful of red paprika powder! Bake at 180°C for 30 minutes in the oven. Enjoy!
The Hesitating Gourmet's Édenkert pite or Paradise Pie is probably cheaper to make in the summer but Hell (!), it's carnival season! For the pie base, mix 20 dkg flour, 3,5 dkg powdered sugar, 12,5 dkg butter, one egg yolk, 2-3 spoonfuls of cold water and a pinch of salt. Let it sit for 30 minutes, then smooth it into a cake pan and bake it for 25 minutes at 180°C. When the pie base is cool, top it with either of the following cream: home-made vanilla cream or white chocolate ganache (chocolate cream). Here's the recipe of the latter: break 20 dkg of white chocolate into a bowl placed over simmering water and stir until chocolate melts. Mix with 2 dl thick cream. Finally, decorate the top with a layer of colourful fruits. Enjoy!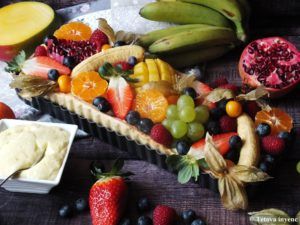 Thank you, Tétova Ínyenc!
Tetszett a cikk? Ha szeretne még paprikás és fűszeres témában, heti rendszerességgel cikket olvasni, hírt kapni az ÚJ paprika elkészültéről, iratkozzon fel hírlevelünkre.
A feliratkozás után azonnal letöltheti a Fűszerpaprika Kisokosunkat!