The carnival season has been traditionally linked to indulgence and eating as explained in my previous post. Now I'd like to share two typical Hungarian recipes that you can make at this time.
The carnival ham croissant has a wonderfully rich dough and ham filling. For the dough mix 300g cottage cheese, 300g flour, some salt and a small bag of baking soda. Add 250g margarin or butter and a spoonful of sour cream to help keep the dough together. Let the dough sit for half an hour, then roll it out to make a thin dough. Cut it into triangles, put a small spoonful of ham filling in the centre and roll up the dough starting from the base of the triangle. For the filling you need 200g ham. You'll have a real Hungarian carnival croissant if you first fry onion cubes in some lard, stir in the minced ham, some spicy red paprika powder and use this juicy ham as filling for your croissant. Brush the top with beaten egg-yolk and bake in pre-heated oven at 180 °C until top becomes nice golden colour.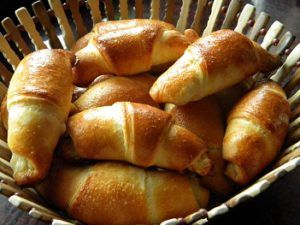 My number one favourite, however, is csöröge, or, as my grandmother from Csengele, called it, csőrege (see large photo above). Kind of like the Spanish churros! I am from the south of Hungary, where this special fried dough is made during carnival season. We love fried dough! Here's my grandmother's csőrege recipe:
Mix 400g flour with 100g margarin, 1 bag of vanillin sugar, half a bag of baking soda and a pinch of salt. Add 3 spoonfuls of sour cream and 2 eggs to make a sticky dough. Roll the dough out on a floury pan and here comes the trick: cut out lozenge-shapes (diamond-shapes) from the dough. Cut a slit in the middle and pull one corner half-way through the slit. Fry these fun-shaped doughnuts in hot oil and sprinkle them heavily with powdered sugar. The form and shape of these doughnuts vary: I can never make the same two! I sometimes replace the lozenge shapes with simple sticks.
No matter what the shape is, sprinkle the doughnuts with powdered sugar and serve with apricot jam. Enjoy! 🙂
Tetszett a cikk? Ha szeretne még paprikás és fűszeres témában, heti rendszerességgel cikket olvasni, hírt kapni az ÚJ paprika elkészültéről, iratkozzon fel hírlevelünkre.
Subscribe to our Blog and enjoy our Paprika Poster.